For many in Cincinnati, the sight of a person with a cardboard sign bearing the words "Homeless — Please Help" brings about conflicting feelings. Most would like to be helpful, but wonder, justifiably, if handing spare change to panhandlers is really in anyone's best interest. Many choose to keep walking, not contributing out of fear that they may be feeding an addiction, and hoping that these people, obviously in need of some form of assistance, can find a better life somehow. It's a defeating experience for all involved.

Fortunately, one program is becoming a key part of the solution in downtown Cincinnati. By merging the opportunity to work for pay (transportation and lunch included) with gentle nudging towards agencies aimed at rehabilitation, the Jobs Van has become a welcome sight to homeless and destitute people looking to better their situations. It is changing the lives of panhandlers, ten riders at a time.

Four days a week, in the morning, the van makes its way through the streets of downtown, picking up those who are asking for money and giving them the opportunity to work for it instead. Riders are taken to areas of town that need beautification, mainly trash removal. They are paid nine dollars an hour for seven hours of work and fed a nutritious meal.

"I leave the shelter at 8:30 in the morning. I come in from different directions," says Jim Cira, the Jobs Van program manager for City Gospel Mission. He says he has to vary his daily routes make sure he provides chances for different riders to come on board the van.

"The most fun all day is picking up people in the morning. They're waiting, to say the least!" continues Cira. "Things are getting harder. People that make a living flying signs — it can be tough. We build a community on the van. It can be lonely out there. It's a life of isolation. We offer them a lifeline and the opportunity to get off the streets for a few hours and do something."

Cira loves his work, although he says when he first considered taking a job driving around picking up homeless people, his wife needed some convincing. Cira not only drives the van, he also works alongside the riders, talking to them and learning about their individual situations. He informs them about the local agencies that might be best suited to provide them with help for their particular needs.

"It's really shattered my misconceptions. People really want to work and they want to put in the time," says Cira. "By the end of the day, I have a better chance to talk to them. When I pay them, they're a lot more comfortable than if we were in a closed office. I get a lot more as far as finding ways to help them."

The van is designated for panhandlers flying signs only. Others, desperate for work, often attempt get on board, but if they don't have a sign, Cira can't pick them up.

With a ten rider limit, Cira says that there are many times he can't even accommodate all of the eligible riders who want to board the van. He frequently gets out of the van and apologizes that he has no more room. He tries to speak to prospective riders individually about their circumstances, making sure they are in touch with social service agencies and have case managers assigned. He promises them he will make an effort to get them on the van the following day.

"You have to build trust to move forward," says Cira. "And you do that by putting yourself out there and letting them know you're not like everybody else."

The Jobs Van is one facet of GeneroCity 513, an initiative adopted by four Cincinnati organizations with different focuses. The Cincinnati Center City Development Corp. (3CDC); Downtown Cincinnati, Inc.; City Gospel Mission; and Greater Cincinnati Behavioral Health Services (GCBHS) partnered just over a year ago to launch the program — the fundamentals of which had been developed in other cities across the nation.

City Gospel Mission runs the van and provides the lunches, focusing on the most notorious areas for panhandling activities in the downtown area. Two outreach workers are also employed by GCBHS as part of the initiative, offering aid to individuals on the street, regardless of location. 3CDC provides funding, marketing, data collection, and reporting, as well as website and social media support. Downtown Cincinnati, Inc. helps out with employing those who have been successfully rehabilitated by the means of the initiative's outreach efforts.

The success of the strategy behind the Jobs Van is already becoming evident. The program has graduated 15 riders to permanent employment. Another 88 have been connected to social services, all in less than a year.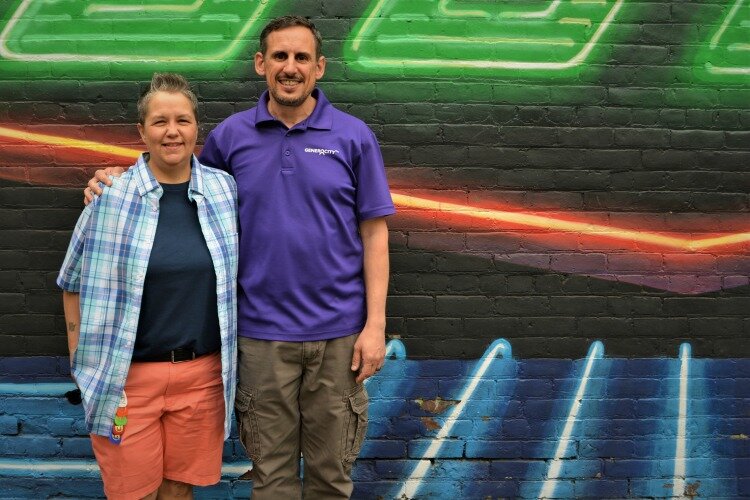 With the help of Jim Cira and the Jobs Van, Lori Gilbert received addiction treatment and employment.

Lori Gilbert is currently employed downtown. A year ago she was jobless, homeless, and addicted to drugs. Now a resident of a sober living facility, Gilbert has been clean for eight months.

"I'd been in active addiction for 15 years, ever since my mom passed away," says Gilbert. "I didn't handle it very well. I kept it together the first five years and was able to keep the job I had and my apartment. Then I went downhill. I had a little clean time, but it didn't last. I was just looking for something to numb the pain of my mother passing away."

Gilbert says that in 2014 she was admitted to a 90-day treatment program. When she was released, she wasn't ready to cope, and relapsed again. She was thrown out of her apartment and had no close family to fall back on.

"I never, ever thought in my life that I would be homeless, but there I was," says Gilbert.

"Some people would walk past me and say, 'Why don't you get a job for once in your life?' and I'd think, 'Well, why don't you come and ask me?'" Gilbert says regarding the stigma she faced during her years on the street. "I've worked the majority of my life. At one point I was a contractor for P&G. I had that job for five years. And after that, I had a job for seven years. It' not like it's been like this forever. It's not like when we're kids we say, 'I want to grow up and be an addict.' There's always a story," explains Gilbert.

Others were kind to Gilbert in her panhandling days. She developed a rapport with quite a few friendly individuals that routinely passed her way, and it's those people who kept her going even when life was at its roughest, she claims.

Gilbert says that no that matter what, she always smiled at people. "Maybe it's the way my mom raised me."

"I was just tired," says Gilbert of the moment she finally let Cira provide her with help finding a recovery option. It was pouring down rain, and Cira met her at the Cincinnati Public Library on his way to pick someone else up for transport to an evaluation. Familiar with Cira through riding the Jobs Van, Gilbert had called to ask him for a poncho.

"She was kind of in limbo," says Cira. He implored her to come along, although she had refused many times previously. He decided to inform Gilbert about a recent success he'd had with one of her acquaintances from the streets of downtown.

"I said 'Hey, I didn't know if it would work, but I took him to this place to get an assessment, and he's in sober living now.' And she said, 'Well, let's give it a shot,'" recalls Cira.

This time Gilbert was ready. She went along for the ride, and after a three-hour evaluation at the Addiction Services Council in Corryville, she was referred to the Talbert House for treatment. It was determined to be the facility that was the best choice for her, based on her experiences and needs.

Gilbert says she had just made an attempt at getting treatment for her addiction two weeks earlier, but it didn't work out. She explains that she had been unsuccessful over the years in many programs involving a long stays and a lot of group counseling, and, once she had hit rock bottom, just needed help with detox. This time, with Cira's help, she found the right match.

"I got out after two weeks and went into sober living. I got my ID back, did everything I needed to do. 3CDC merged with Downtown Cincinnati, Inc., and through the people there I became employed as a downtown ambassador," Gilbert says proudly.

Downtown Cincinnati, Inc. is now a subsidiary of 3CDC. The organization employs Gilbert and others with similar success stories as ambassadors to the downtown community, placing them in the specific locations where they can be most helpful. They provide friendly welcomes to passersby and keep the areas tidy.

"We do a little bit of everything. I make sure Government Square stays clean. I help people with their busses. I help out-of-town guests," Gilbert says of her position. "It was a way for me to give back to the city, even though I'm getting paid for it. You know, I love my city," continues Gilbert.

Gilbert says that regardless of the outreach being performed by GCBHS, some people who are living out on the streets are still more inclined to ask her for help. She believes they trust her because they're aware of her first-hand experience.

"I'll help some of the ones who are still out there," she says of these acquaintances. She crosses paths with them daily in her work. "There are a lot of them out there who knew me, and some new ones. They say, 'I heard you were out here homeless. How'd you do it?' I tell them about Jim. If they ever need help, I say get in touch with Jim."

On July 3rd, the Jobs Van celebrated one year on the road. Cira is pleased with the success so far, but says the needs downtown are greater than what the van can handle, and extends to other areas of the community as well.

"Right now, with our current funding, we're focused on anywhere south of Liberty Street down to the river. Where I see the greatest need would be in Corryville. They've got a high homeless population there. There are a lot of people that I know up there. The pastors and so forth, they'll say, 'I wish you'd come up here.' Maybe one day we'll get a second van. That would be great, to expand up the hill," says Cira.

For now, the efforts of the Jobs Van and the GeneroCity initiative are making an impact in the heart of the city every week — giving more than just rides, work, and referrals. They're providing the homeless community with a sense of dignity and enticing its members with life-changing opportunities.

"Jim coming to pick me up and me working really gave me a boost," says Gilbert. "Jim believed in every one of us that was on the van, no matter how many times we failed. There are more success stories than just me."

Visit GeneroCity513.org to learn more about the programs in the initiative or to donate.SHARE
Eliza Bobonick is a Cincinnati-based writer and a mother of three. Her work has been featured in such local and regional publications as Cincinnati CityBeat and Kentucky Homes and Gardens Magazine. She is a former musician whose interests include photography and interior design.